10 everyday things that make you smile
Bus strike, rain, inflation… In the midst of bad news, Barcelona also sows some small things that make you smile every day. There's always a ray of sunshine hiding somewhere, you just have to look for it.
Photo: Monica Moreno/Ajuntament
Police buggies
Even though the beach season is winding down, it's still not too late to go for a walk and meet the police, in Bermuda shorts, in their special buggies to get around the sand. If in London we have mounted police, in Barcelona we have special police officers on the beach, and that makes you smile.
Dog-friendly bars
In general, Barcelona is already a very welcoming city for our four-legged friends: dog parks, dog sitters… And in the summer, bars for dogs. It is common for restaurants or even businesses to place a bowl of water in front of their establishment, so that dogs can quench their thirst while waiting for their master. A small attention that shows how much people in Barcelona are animal lovers.
The shared gardens
Not everyone is lucky enough to have a garden, but there are still some alternatives. And among them, gardens and shared spaces, where residents of the same neighborhood can go and plant whatever they want. These spaces are mainly located in the Eixample, especially in the superilles but not only. The town hall has even placed special soil burns on some streets to encourage residents to come and plant what they want. There is even vegetable gardens where retirees show their plantings to students from neighborhood schools, which is surely one of the best initiatives in town.
Photo: Clementine Laurent/Equinox
Children with barça shirts
In Barcelona, ​​​​​​​​we don't choose to support FCB, we are born with its colors. In any case, that's what you might think when you see the number of children and even babies wearing Barça jerseys. And there is nothing more touching than seeing children singing at Camp Nou during matches to encourage their team.
Retirees at their doorstep
If there's one thing Barcelona has in common with Spain's small lost villages, it's the pensioners on their doorstep. These grandparents who, at night, set up one or more chairs in front of their steps and watch people pass by, life quietly passes by. Sometimes, in some neighborhoods that retain their famous soul, they set up a table and eat with neighbors on the street, a common custom at neighborhood parties. And we hope it stays that way for a long time.
parakeets
The cutest animals you can see in Barcelona are definitely the parakeets. These beautiful green birds, which cannot be missed if you walk through any city garden, are almost reminiscent of exotic countries when they perch on palm trees. Their song is not the most pleasant (if you can call it a song), but parakeets are still the cutest animals in Barcelona.
The small traders
Barcelona may be a beehive of 1.6 million inhabitants, but neighborhood life remains very vibrant and local residents know each other. Many small traders still endure and most know their customers, striking a conversation in the middle of the market. A small detail that is nice when you live in the Catalan capital.
The chaos of football
It's not just children who support Barcelona that makes you smile. During matches, small neighborhoods really come to life, and sometimes you can tell when a goal has been scored and by whom by listening to the reactions and cries in the streets. In Sants, for example, if FCB wins, it is impossible not to know: people go out and gather in bars to party, and a happy atmosphere fills the streets.
The legs
The " bicibus", which can be translated as 'vélobus', is a group of children who ride bicycles with their parents and are accompanied by the police who go to school every Friday morning. An initiative that appealed to children and parents, and now there are several that are held every Friday and pass in front of some schools. For parents, it's a way to make their trips greener, and for kids, it's a great opportunity to go to school with their friends.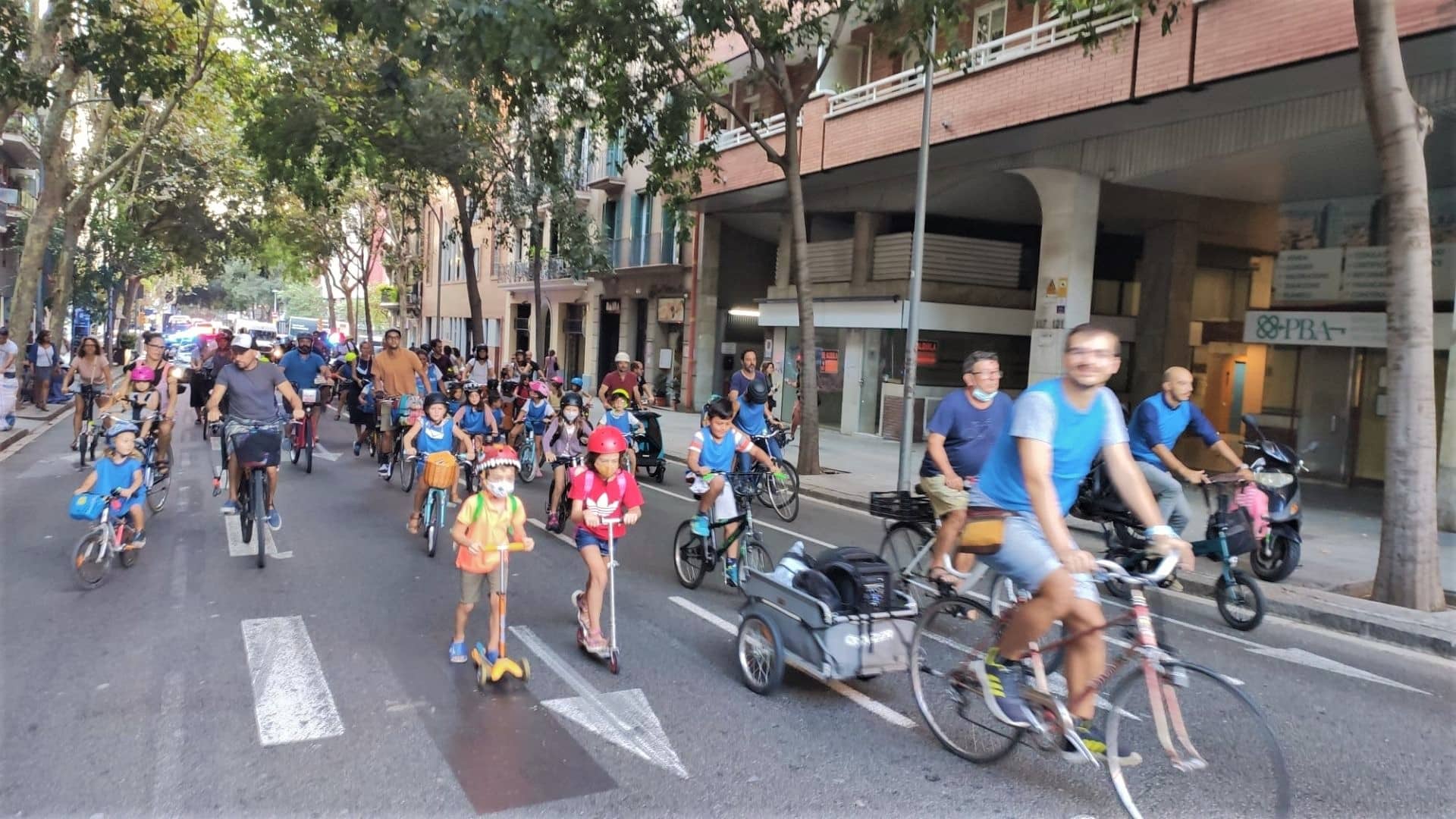 Photo: Beteve
The spring flowers
The best natural spectacle to be seen in Barcelona, ​​​​​​​​​​​​​​​​​​​​​​​​​​​​​​​​​​​​​​​​​​​​​​​​​​​​​​​​​​​​​​​​​​sides the Mediterranean sunrise, are undoubtedly the trees in flowers in April and May. The city is full of exotic trees that carpet the streets and skies with yellow and purple in late spring, making for great photos of Barcelona and a great view on the way to work.