Line and Thierry Cléro have diversified their farm by welcoming children
During the school holidays, open the gates of your farm to little vacationers. Stays for children on the farm are increasing. If you have a good sense of them and the time for it, this diversification activity requires little formality and investment, and allows a significant additional income, believe Line and Thierry Cléro, who started eight years ago ago .
"I work outside and my husband is a dairy farmer. I wanted to find a professional activity that would allow me to work in the farm, without requiring too much investment", explains Line Cléro. Eight years ago, she created an activity of children stay in the farm. Their farm in Cambout (Côtes-d'Armor), Line and Thierry Cléro children between 6 and 16 years old are welcome. Within a few days, they will experience a green bracket.
"I took four children at a time. They will enjoy outdoor games and walks in the fresh air. they learn about animals, country life and dairy farming ", shares Line. "The children love milking, bringing the cows back to the farm, Thierry said with a laugh. They discover agriculture and love it. So some big people say they want to work there." Convinced that animals are a great educational support, Line trained through animals and complete the dairy herd with a real mini-farm with horses, donkeys, dogs, rabbits…
To discover breeding, to be born in vocation
While the space and animals are a big part of the appeal of farm stays, the family aspect also contributes. In fact, children take part in family life, they are at home, meals are put together. "This is reassuring for both children and parents. Children gain independence while remaining within a family structure", underlines Marie-Paule Fouquin, who manages the mission of pedagogy for welcome to the farm network of the Chamber of Agriculture of Brittany.
There are not enough farms willing to accept children.
Colonies are less popular, due to their price and reception formulas that do not necessarily meet the expectations of families. "Welcoming the farm, the family, is reassuring for the parents as it is for the children, especially if it's the first time they leave alone, underlines Marie-Paule Fouquin. The prices are also more accessible.
Although there are strong expectations on the part of families, there is a shortage child-ready farms. "Like all agricultural sectors, we are witnessing a large number of retirements, observes Marie-Paule Fouquin. in L'childcare in the fieldmore business delays than creation".
Start taking care of the children
You like share your passion for agriculture, You feel good with children, why not offer farm stays. This is an activity that you can do at your own pace and requires little investment.
A declaration of activity is sufficient.
Some decide to start when their children are small so they can have friends during the holidays, others do it when they are older and their rooms are available. "Welcoming is done at home so I want my children's permission, testifies Line Cléro. Our oldest is independent but our youngest is still at home. He agrees and he still participates in the game, for example, bringing the children on tractor rides".
In addition to welcoming the family, you need to make sure that you have enough time to manage your farm and take care of the little vacationers. At the administrative level, there is only a declaration of activity to be made.
Freedom of organization and prices
Reception is done in groups of 2 to 6 children. "As long as they are in the family home, no big investment is needed, assures Marie-Paule Fouquin. There are requirements over the rooms but there is no need for a bathroom in each one". "We developed the design of our children's bedrooms, recalls Line Cléro. Then we turned an old barn into a games room, with a table tennis table, board games…".
Each farmer has great freedom, both in terms of his customers and in his organization and prices. Private children, such as those entrusted with child welfare, may remain on the farm. "Host families take weekends and holidays. During these holidays, the children they hire can come here", explained Line and Thierry.
Having time and feeling good with children.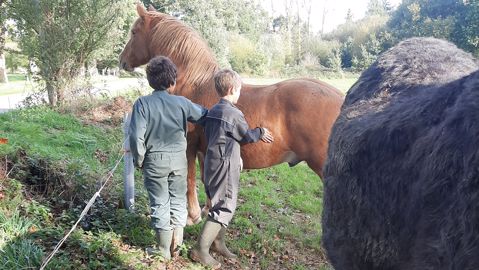 "A significant additional income"
It is also up to everyone to set the reception speed that suits them. "I reduced the time I worked outside to accommodate the children, Line Cléro testified. I offer contracts for those I always accept. In the summer, many return from one year to the next, friends who want to meet, cousins ​​who are far away from each other and want to spend a week together »
Minimize outside work and prepare yourself.
At the financial level, everyone sets their own prices. "You should not think about the hourly wage, recommend Line and Thierry. But it's an appreciable additional income", which allowed Line to reduce his working hours outside and Thierry to prepare himself to reduce the difficulty of some tasks.
Farmers who want to start can contact the advisers of the "Welcome to the Farm" of the agricultural chambers to help them in the emergence of an educational project around the reception of children in their farm operations , giving them organization-specific advice.